Welcome to Brandon Meats & Sausage Inc.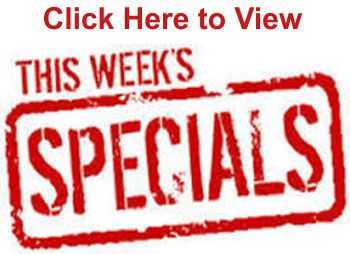 As we navigate the changes currently going on in the world, we hope you and your family remain healthy and safe.
Brandon Meats and Sausage wants you to know that we are thinking of you during this time.
Our store is open for inside service again.
We are also offering curbside pick up. You may call in your order at 920-346-2227, or email your order to brandonmeats@centurytel.net or submit your order by contacting us through our website. If our phone lines are busy please leave a message and we will return your call asap. We are asking that you allow us 24 hours to complete your order. We will contact you when your order is ready for pickup. If you are able to pay for your order prior to pick up with a debit/credit card, it will help expedite the process.
As always, we thank you for shopping at Brandon Meats and Sausage and especially appreciate your cooperation and patience during this time.
Brandon Meats in Brandon, WI has been providing some of the best meats and meat processing services in Fond du Lac County, Wisconsin since 1960. Brandon Meats butcher shop and local meat processing plant is just 20 miles west of Fond du Lac and a little over an hour's drive from Madison, WI, 10 miles north of Waupun on Hwy 49 or Milwaukee (click links for directions and map), and is well worth the short drive!
Located in the village of Brandon, Brandon Meats is your full service, old-fashioned butcher shop. The freshest Rib Eyes, T-Bones, Porterhouse and Sirloin Steaks along with beef roasts & a wide variety of cuts of pork, poultry & seafood will catch your eye and spark your appetite as soon as you step inside. Their Onion & Garlic, Tailgate, Pineapple Teriyaki & Jambalaya brats are customer favorites from over 40 varieties of brats they have to offer. People, who come from all over the Midwest, love their award winning sausages, including their summer sausage and ring bologna. Let's not forget their "old world" beef jerky.
Have a party to plan for, they can definitely assist with their quick and easy Heat & Eat items, along with salads, and exquisite cheese and sausage trays. Recently Brandon Meats added some new items, delicious take and bake pizzas, that are just smothered with cheese & all your favorite toppings.
Brandon Meats has been a huge part of the community for over three decades, and offers not only the freshest quality products but also friendly knowledgeable customer service. Brandon Meats enjoys a long reputation for commitment to excellence, community and customer service.
Following is a brief description of the wonderful products and services you can expect from Brandon Meats: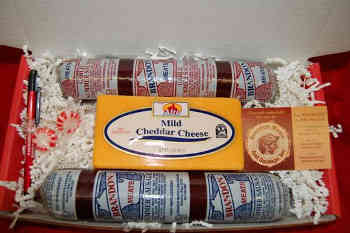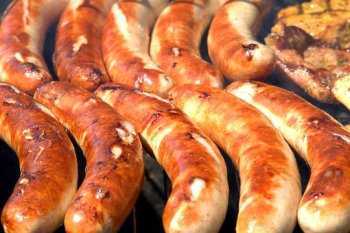 Stop In at our Brandon Meat Market
We welcome you to browse our quality meats or call us at 920-346-2227 for shipment of select products anywhere in the continental US. Or just stop by and shop our beautiful butcher shop and grocery store, where you can select from the finest selection of fresh meats, sausage and meat snacks and so much more.