Venison / Deer Processing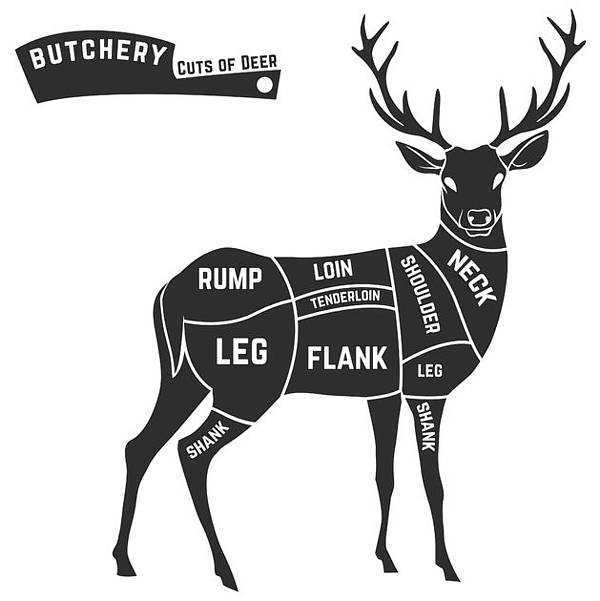 After a lot of discussion, we have decided that as of June 22, 2020 Brandon Meats will no longer be accepting whole or quarterd game carcasses. Brandon Meats will continue to accept boneless trim, but will no longer be cutting and de-boning whole or quartered deer, bear, elk or other wild game.
Here at Brandon Meats our award winning recipes and quality workmanship go into each venison order we process so we insist that we start with a good product. It is essential to handle venison properly as soon as the deer is down to ensure the safety and quality of the final products.
All cut-up and boneless venison must be in clean, food safe containers or bags. Don't use black, brown or green garbage bags for storing venison. These bags are often made from recycled plastics and are not intended, or approved, for food use. Instead, use clear or white food-grade plastic bags, or plastic food-safe containers. Brandon Meats reserve the right to refuse any venison or other wild game that does not smell or appear fresh, or is not cleaned properly.
To enhance the quality and maintain freshness while in your freezer, we package all cuts in high quality, durable white freezer paper. Each package is then labeled for easy identification. Ground venison is sealed in air-tight durable soft plastic tubes. All venison sausages are vacuum sealed to preserve freshness.
Brandon Meats processes thousands of pounds of venison sausage throughout the year and we would not be able to do this without commercial-size state of the art equipment. This commercial-size equipment does not allow us to keep smaller batches separate. If you desire your own separate batch of sausage you will need to supply 50 lbs of venison for each sausage product you order.
Extended Deer Season Hours - ALL SAUSAGES ARE VACUUM SEALED

THE BELOW PRICES ARE THE 2019 - 2020 SEASON RATES & ARE SUBJECT TO CHANGE WITHOUT NOTICE.

Venison Processing Charges

Grinding of Boneless Meat

$0.60/lb.

Grinding, Packaging, and Freezing of Boneless Meat

$0.80/lb.

Beef added to Burger

$2.49/lb.

Pork added to Burger

$1.99/lb.

Bacon added to Burger (10# Minimum)

$3.99/lb.

Smoking of Venison Round for Ham

$2.25/lb.

Dried Venison

$3.69/lb.

1/4 lb Venison Patties (20% beef added) come 4 patties/pkg.

$3.49/lb.

Sausage Making (All Sausage Products are Vacuum Sealed)

Summer Sausage

Plain, Garlic, Hot 2.25# Sticks

$2.69/lb

Plain, Garlic, Hot 1.5# Sticks (Shorties)

$3.09/lb

Cheese Summer Cheddar, Pepperjack 1.5# Sticks Only

$3.49/lb

Snack Sticks/Jerky

Mild, Hot, Cajun, Garlic

$2.99/lb

Jalapeno Pepperjack, Cheddar Cheese, Ham, BBQ, Sweet and Spicy BBQ

$3.69/lb

Landjaeger

$2.99/lb

Snackers (Original, Sweet & Spicy, or Mango Habenaro

$4.59/lb

Brats

Regular, Italian, Onion & Garlic, Smoked, and Breakfast Links

$2.49/lb

Regular or Jumbo Wieners, Polish Sausage

$2.59/lb

Cheddarwurst

$2.99/lb

Ring Bologna Regular or Garlic, Mettwurst

$2.39/lb

Venison Bacon

$2.69/lb

Meatloaf (1.5# Tubes)

$2.99/lb

Sloppy Joe (1.5# Tubes)

$2.29/lb

All Prices are Subject to Change Without Notice
"Please be aware that the weights for each sausage item on your order are before pork or beef is added. For example for every 10 pounds of venison sausage there will be 15 to 18 pounds of billable product, this will vary due to the item. All sausage products are subject to weight loss during the smoking process. "